Videos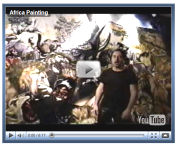 "Paintings by Alexander Kanevsky"
New Haven City Hall,
165 Church St., New Haven

Artist and Writer Doctor Alexander Kanevsky Historical exhibition in New Haven City Hall.

In January of 2001 the world renowned artist Alexander Kanevsky hubbubs New Haven forthwith the entire United States on frontier of Art, Culture and Ideology;
ABC News, Fox Channel News, USA today, CT TV radio and newspapers boiled up Alexander's issue;

Upon opening of the grand exhibition of 80 of his Masterpieces in New Haven City Hall in his concluding ceremony speech to New Haven Alexander promised forth to turn New Haven into the American Florence while the United States into cradle of the New Renaissance. "The Superrenaissance, like Alexander himself" smiled John DeStefano, the mayor of New Haven, and added: "Come, Alexander, and challenge us. World would be a dull place if not people like yourself."

Pictures

Artist Alexander Kanevsky, left, listens Tuesday as new Haven Mayor John DeStefano Jr. talks about art and Kanevsky's paintings, on display at City Hall. Kanevsky, who had been a surgeon, writer and artist in Russia, came to the United States in 1990. He has written eight novels, three books of short stories and a book of poetry in addition to painting.

Bold, brutal canvases...

Bold, brutal canvases propelled by the burden of history / By Judy Birke
New Heaven Register. February 4, 2001

Kanevsky's powerful images, a bizarre fusion of historic drama and hallucinatory distortion, take one into the realm of the subconscious, an instinctive place where semi-realistic visions of tormented figures writhe in convulsive agony amid a nightmarish otherworld.... Read More


Hubbub in New Haven